The Solomon Islands Ombudsman for the first time teamed up with the Institution of Public Administration and Management (IPAM) to deliver training on Good Decision-Making to public officers.
The two days training, which attracts 29 participants from various government ministries and departments, was a first of its kind the Ombudsman has conducted in collaboration with IPAM, 11th —12th April 2023.
In a short ceremony to open the training, the Director of IPAM, Mr Solomon Manea, highlights the importance of the training to public officers and welcomes the Ombudsman office in facilitating the training. He highlighted that such training is very important in the Public services, since as public officers, we are expected to make decision as part of our work responsibilities.
In response, the Ombudsman, Mr Fred Fakarii thank IPAM for seeing the importance of the training and integrating it as one of IPAM training courses public servants could choose from when attending IPAM facilitated courses.
The Ombudsman further advised the participants that the application of knowledge learnt during the training will enable them to be good decision-makers in their respective area of responsibilities. "This training will enable you to see the importance of following process when making decision. Understanding the processes of decision making, the boundaries of your authority and the law of natural justices will protect you when your decision is questioned," Stated the Ombudsman.
The training has 8 modules. The first five modules were covered in the first day and the other three were covered in the final day. The module includes, a brief overview of the Role and function of the Ombudsman, the Cost analyse of poor decision making, Record keeping, Prepare the decision and developing the decision. The other three modules which were covered in the second day includes, Make the decision, Communicated the decision and the plenary session.
Response from the participants were positive, some describing the training as eye-opener for them as they for the first time learn and understand the process of Good Decision-making. Others stated that they will start to apply the knowledge they learn in their work places, and share the knowledge with their other work colleagues. Some rate the training as excellent and recommends the Ombudsman office to continue to train more officers through IPAM.
Other government institution and private bodies, the Ombudsman conduct similar training in the past includes senior and middle management of correction services of Solomon Islands, (CSSI) and Chief Education officers of Government, Churches and Private Education Authorities.
The Ombudsman hopes to continue the training with other government institution and agencies in the future.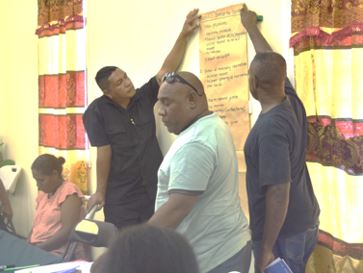 Some of the participants during the plenary Session.
A participant receiving her certificate from the Ombudsman and Director of IPAM.